Sue Gates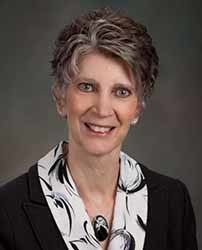 Sue Gates is a lifelong resident of South Dakota, growing in Aberdeen.  After graduating from St. Olaf College in Northfield, MN, in 1974, she returned to the state and opened a private music studio that she operated for fifteen years.
 In 1988 Sue entered the museum field when she was hired as the Curator of Collections at the Dacotah Prairie Museum in Aberdeen.  Her work in the collection department included initiating a computerized inventory of the museum's nearly 40,000 artifacts to determine and prioritize collection needs as well as render the collection more accessible to staff and researchers.  She became the director of the Dacotah Prairie Museum in 1995 and held that position until her retirement in 2019.  
During her museum career she championed local history through numerous research and writing projects, historic preservation efforts, and the development and presentation of workshops and seminars for museum professionals.  She shared her expertise on city, state and national boards and committees in the development of industry standards of disaster planning, ethics and professionalism in the public history field and served the Institute of Museum and Library Services for many years as a member of its grant review cohort. 
Sue has served on a variety of local and state boards and committees.  She is an active member of the P.EO. Sisterhood and has held leadership positions on the local, state, and international levels.  She has served as Associate Music Director at the Zion Lutheran Church in Aberdeen for over 30 years, plays flute in many local ensembles, and serves as an adjudicator for high school music competitions.  Other interests include watercolor painting, knitting, reading, and biking.