Jacqualyn Gist Fuller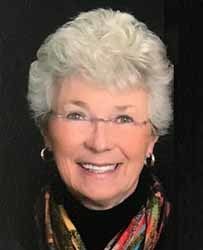 Jacqualyn Gist Fuller was born in Madison, SD to John (Jack) and Sylvia (Thompson) Gist the older of two girls. She graduated from Madison High School. While growing up she had many jobs including paper girl, babysitter, waitress, life guard and swimming instructor. While in school she and her sister, Jerri, opened the concession stand at the new Madison Swimming Pool. They continued being "business girls" until Jacque graduated from USD with BA in Speech Therapy Education.
She married A. Peter Fuller in Mitchell while at the U and after graduation they moved to Yankton where she was employed as a speech therapist in the public schools and he continued his studies. She conducted summer speech classes in Mitchell and Yankton.
After Peter graduated from Law School they moved to Chamberlain where she worked as a speech therapist and he opened an office. Three years later the family relocated to Lead where they have resided since.
During the early years she stayed busy with their children, sons Brook, Jason and Thad and daughter, Alecia; all graduates of the LDHS. She was elected as the first woman commissioner and two terms later was elected mayor. While serving the citizens of Lead she started an adopt-a-park program that involved businesses, organizations and individuals assuming the responsibility for the clean up and improvement of Mooney Park and the neighborhood parks. Some of her ideas included street advisory board to develop a street replacement plan and the sewer enterprise fund that continues to allow the city to bond for sewer replacement with out increasing taxes. Working with Lea Mathis she appointed the first Lead Historic Preservation Commission. With her help from her sisters in Beta Sigma Phi she chaired the project to raise money for recorded books for the Hearst Library.
Jacque was employed by BH Cooperative for many years as a speech/language clinician in the Lead-Deadwood School system.
Over the years she has served on many local committees and boards including the Foundation for Health (formerly the Deadwood/Lead Hospital Foundation), several Trinity United Methodist Church committees, Lead Fine Arts, YMCA, Lead Economic Development, Lead Historic Preservation Commission and the Historic Homestake Opera House Society, which she founded with the help of Lea Mathis and Phyllis Fleming.
Statewide involvement includes membership on the following boards: Black Hills Area Community Foundation, South Dakotans for the Arts, Historic SD Foundation, Preserve South Dakota and currently as a member of the South Dakota Historical Society Foundation. She was appointed by Governor George Mickelson to the Governor's Board of Economic Development and served for many years. She represented South Dakota for six years as one of South Dakota's two advisors to the National Trust for Historic Preservation.