Meet Some of Our Volunteers!
Joan Likness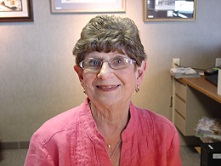 Theater, family and being at the Cultural Heritage Center are a few of Joan Likness' favorite things.
Joan was born in Chicago. She moved to New Jersey as a high school sophomore and lived there for seven years, graduating from high school and what is now Montclair State University in New Jersey. Montclair is near New York City, and Joan took advantage of its proximity to see what New York City had to offer.
"I fell in love with the theater. I still have that love to this day," Joan said.
Joan met her future husband, James, on a Greyhound bus.
After they married, they came to South Dakota. James enrolled in South Dakota State University through the GI bill. After James graduated from college, he became Minnehaha County assistant county agent for the Extension Service in Sioux Falls. He became the county agent in Hughes County in 1960, and the family moved to Pierre.
The Liknesses have five children: Michael, Ventura, Calif.; Steven, Pierre; Karen, Fergus Falls, Minn.; Paul, Brookfield, Ill.; Mary, Pierre.
"We enjoy seeing our 10 grandchildren aging 16 to 26 sprawled across the country," Joan said.
Joan has had a variety of careers: teacher, journalist, and in marketing.
"In the late '80s, I retired from that to become a full-time volunteer except for occasional casual employment," Joan said.
She has been involved with Scouting, the Pierre Concert Series, Friends of the Library, Pierre Area United Way, Lutheran Memorial Church and the women's prison. She serves as a tour guide at the Capitol and the Governor's Mansion.
Joan is an avid gardener and reader. She goes back to New York at least once a year to see plays and go to museums. She also tries to take in Pierre Players and Black Hills Playhouse productions.
She accepted an invitation to volunteer at the Cultural Heritage Center because it sounded like fun.
It has been.
"Everybody appreciates you," Joan said. "I love meeting the people who come in, but the best part is how much you are appreciated here."
We do, indeed, appreciate Joan and all our volunteers at the Cultural Heritage Center. Thank you, Joan, for being a great volunteer.